Java For Dummies, 6th Edition
If you have the 5th edition, please visit Java ForDummies, 5th Edition.
For earlier editions, visit my main page.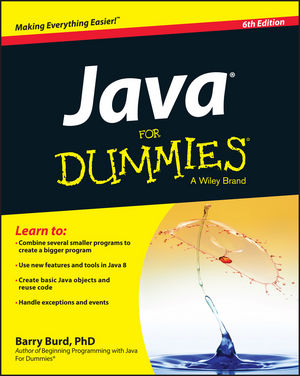 Download the book's code ...(Choose Eclipse if you're not sure which to pick.)
For use with Eclipse
For use with NetBeans
For use with IntelliJ IDEA

Download GUI versions of many of this book's examples (as an Eclipse workspace)

Mac users:
If you have trouble importing your projects into Eclipse, your computer might be automatically unzipping the downloaded file.
In Eclipse's Import Projects dialog, please try choosing Select root directory instead of Select archive file.

Eclipse users:
If you want to use Java 8 features, make sure that you have Eclipse Luna (version 4.4.2) or later. Older versions of Eclipse don't support Java 8.

Talk to me:

Chapter Notes:

(I haven't yet posted some of these notes. If you can't find what you need (because the branch has text with no link) then send me an email message (JavaForDummies at AllMyCode dot com) and I'll put your request toward the top of my list. Thanks for your patience.)

Errata
On Page 152, change the first sentence as follows: "By the way,the main method in Listng 7-6 contains two calls to getInterest." Thanks to Stephen Lightbody for finding this error.
On Page 219 (in the "Another way to beautify your numbers" section in Chapter 10) ignore the sentence about semicolons. That is, remove "In this little example's format string, everything before the semicolon dictates the way positive numbers are displayed, and everything after the semicolon determines the way negative numbers are displayed." (Thanks to Chuong for finding this mistake.)
On Page 243, change 2333 to 2233. Thanks to Alex Vitushkin for finding this error.
The paragraph near Figure 11-11 should read as follows: Although it's technically not considered a step in array making, you still have to fill each object's fields with values. For instance, the first time through the loop, the readRoom call says rooms[0].readRoom(diskScanner), which means, "Read data from the RoomList.txt file into the rooms[0] object's fields (the guests, rate, and smoking fields)." ... Etc. (Thanks to Craig Burget for bringing this to my attention.)
In Chapter 17 (the database chapter), you now have to add an additional jar file to your project. For info, see RunningTheJDBCExamplesInJavaForDummies.pdf.
Extras

For the extra material associated with this book, visit http://www.dummies.com/how-to/computers-software/programming/java/Java-For-Dummies-Extras.html.