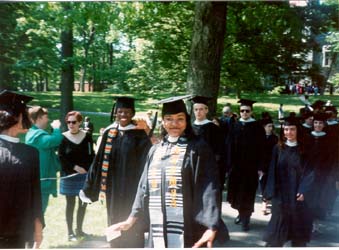 EXPERIENCE A WIDER WORLD
The Drew Educational Opportunity Scholars (EOS) Program supports talented and
motivated - yet financially and academically disadvantaged -students from New Jersey in
their study at Drew University, a culturally, ethnically diverse college community where
every student has an equal chance to
succeed. Through the EOS Program,
students grow academically and
personally as they gain a new, expanded
view of the world.
You'll be admitted in the summer:
Drew University helps EOS students launch
their college careers through a required six
week residential Summer Academic
Enrichment Program. EOS students gain
a head start on their Drew University education--and earn credits in the process.
(Summer EOS courses include English, and
Psychology, along with a College Elective.)
The students also get to know one another
and form relationships that support them
during their years at Drew University. They
learn about the many professional services available to them on campus. At the end
of the summer, students are fully prepared
to meet the challenges--and the exciting opportunities--of their first year at
Drew University.

LEARNING
Work with caring teachers: Personal
attention from the faculty is an important
part of the Drew University experience for
all students. In fact, students say that
Drew's greatest strength lies in the
continuous support they receive from their professors. Educational Opportunity
Scholars, in particular, find the guidance
they need to fulfill their potential--which
helps explain their high success rate as they continue their college careers at Drew
University. n the past 10 years, the EOS
Program has etained an average of 95
percent of its first-year students through Sophomore year.
Dr. Lillie Edwards, Associate Professor of
History and African American/African
Studies is just one of the Drew faculty who
help open up the world for EOS students.
Besides teaching on Drew's campus,
Dr. Edwards also leads off-campus study
groups to Africa's Cote d'Ivoire.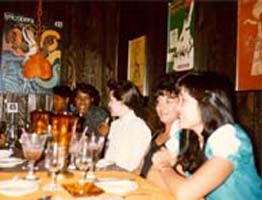 INVOLVEMENT
Be part of a community.
More than 90 percent of EOS students live on Drew's beautiful 186 acre campus in order to experience its close knit community life. The college has 10 undergraduate residence halls and six "theme houses," including
A La Casa Hispanica, where speaking Spanish is required, and Umoja House for those studying African and frican-American cultures. Among the many and varied student organizations on campus are KUUMBA, the Pan-African and Caribbean student union; ARIEL, a student group that celebrates Hispanic cultures;
and ASIA (Asian Students in America), which celebrates Eastern cultures. EOS students often give back to their own communities through volunteer programs--such as mentoring at-risk children through the READY Foundation.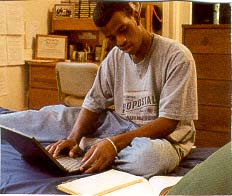 TECHNOLOGY
Make use of technology.
At Drew, EOS students join the age of
technology--no matter what their prior
experience has been. All incoming
students are equipped with a computer, printer, and software--which they own when they graduate. Like all Drew students, they participate in orientation classes to assure that their computers become an integral part of their lives. Students also have access to the Internet
and to Drew's automated library catalog through their computers, and to every faculty member and student through voice mail and electronic mail systems.
OUTREACH
Discover the world.
Drew offers many ways--and many
resources--to learn more about the wider world. New York City is only 30 miles from campus,
and most students use the city for off-campus study (in Drew's semesters on art, theatre, Wall Street, nd the United Nations), for Internships
(at major corporations such as AT&T,
Merrill Lynch, and Revlon), and to expand their
cultural awareness. Many EOS students have also taken advantage of Drew study trips abroad. Drew International Seminars are designed to be both accessible and affordable
to as many students as possible. EOS students have studied in Africa, Spain, and Mexico as
well as Thailand, Costa Rica, and Egypt.
INCENTIVE
Student Recognition Programs.
Special programs given to EOS students
include: Academic Achievement Awards,
Scroll of Merit, Workshops, Honor Society Induction, Cultural Awareness Trips, Peer Counselors, Tutors, Big Sister &
Big Brother, and Senior Awards Dinner.
ACHIEVEMENT
At the end of four years: At the end of
four years at Drew, there's more than a
diploma: There is wealth of opportunity.
While at Drew, EOS students take
advantage of an extensive career advising program. Internships give students the
chance to learn about their interests and
how to pursue their life goals. EOS
graduates continue to achieve in a variety
of fields. Example: Kevon Chisolm
(Drew '91) earned an M.A. in African
American studies at Yale and earned his
Law Degree from Seton Hall School of Law.
WORDS OF WISDOM:
Eliminate the word "failure" from your vocabulary! Educational Opportunity
Scholars (EOS) at Drew University learn
that "nothing is impossible. " For more
than 25 years, graduates of Drew's EOS
Program have proven they can achieve.
They may have to come to Drew University expecting a struggle, but with the
encouragement and support of the EOS
Program network--financial and academic--
they work hard, go on to graduate from
Drew University, and succeed in their
chosen fields. Since 1970, Drew University
has graduated a total of 225 EOS students
who are today making a difference in our
world. If you are admitted through the
EOS Program, you are fully enrolled in
Drew University College of Liberal Arts.
You are also eligible to receive the full
range of EOS Services; personal,
academic, and career counseling, tutoring,
study skills enhancement, peer mentoring, special seminars and workshops, and the guidance that will help keep you on track throughout your college years.

Go to top page
Shortcut to Home
Address:
Drew University, Sycamore Cottage,
36 Madison Ave., Madison, NJ, USA 07940
Phone: 973/408-3578
Fax: 973.408.3216
Copyright © 1999 Drew University,
Educational Opportunity Scholars Program