EDUCATIONAL OPPORTUNITY SCHOLARS



Student Testimonies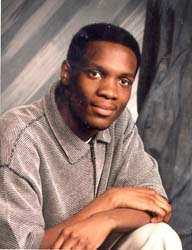 Fuquan Jackson
Class of 2001
Major: Political Science
Hometown: Newark, New Jersey
"You see those trees, they are preparing them for your neck. They don't call it the 'University in the
Forest' for entertainment," one of my high school mentors said. One of the most difficult challenges
for me, was gaining admissions into Drew and disregarding all the negative energy I encountered.
All my immediate friends and teachers attempted to dissuade me. "Fuquan, Drew is not the place
for you. Perhaps, you may want to attend a local school," my English teacher insisted. With my
mother and God in my corner, I was accepted into Drew through the Educational Opportunity
Scholars Program (EOS). As a product of economically and academically disadvantaged background,
EOS provides me with the support services I need to be successful in my endeavors. Their
encouragement has aided me to continue my academic struggles as a student here at Drew, despite
my past.
As an EOS student, I learned that achieving my goals only starts at Drew. As a result, life after Drew
will be abundant. There is without a doubt EOS has opened many doors. For the most part, EOS has
played an integral role in my academic career. I am extremely active in the campus community and
outside it. Since the beginning on my first year, I have given campus tours, hosted prospective
students, written in the school newspaper and traveled with the Admissions Office to recruit
first-year students. In addition, I have been employed part-time, for two years at Crate & Barrel in
the Mall at Short Hills and maintained a course overload each semester.
For the past two summers, I have also completed a few internships. The first internship was with
AT&T wireless, followed by the second with Steven Institute of Technology Technical Enrichment
Program (STEP). Undoubtedly, through the EOS program I was able to achieve these goals and learn
more about the kind of person I have evolved into since my attendance at Drew. Currently, I am a member
of the La Casa Hispanica theme house and executive board member of Kuumba (Pan-African student
organization), Ariel (Hispanic Cultural Organization) and the Inter-Vasity Christian Fellowship group.
Through these organizations, I have been able to express myself and work for the improvement of campus
life for minority students. "Don't forget where you came from", my friend Kareema said as I departed for
Drew in summer of 1997.
My efforts to give back to my community have been prevalent. Through my membership with Paradise
Baptist Church, I have assisted in the advancement of the Newark community. As a substitute teacher
for the Newark Board Education I have encouraged the students to pursue their alternatives wisely.
Being an EOS student, has taught me my weaknesses and strengths. As I plan to attend Law School
in 2001 at Howard or Villanova Universities, my debt to the EOS program is extensive. I cannot express
my heartfelt gratitude enough.

Ngina Tene Wiltshire
Class 1999
Major: Mathematics
Minors: African - American Studies and Business Management
Hometown: Irvington, New Jersey

"Gina, can you...?" "Gina, would you...?" "Gina, you should..." That is all I have heard since I
stepped on campus in June of 1995. My answer to those statements were usually "okay," "sure,"
and "yes." I was very involved on campus, especially with the Educational Opportunity Scholars
Program. I served as a peer counselor for two years tutoring Writing, as well as serving on the
Student Council Executive Board as Treasurer and then President. Through my participation in
these clubs and many others, I truly learned that more learning is gained outside of the
classroom than within the four walls of Brothers College and Hall of Sciences.

Melissa Vargas
Class of 2001

Major: Economics
Minor: Business Management
Hometown: Jersey City, New Jersey

Hello! My name is Melissa Vargas and I am a participant in the Educational Opportunity Scholars
Program here at Drew University. I am originally from Jersey City and graduated from James J. Ferris
High School in 1997. I am currently a junior studying economics and business management. I am
presently employed as an Assistant to the Secretary at the EOS Program Office.

Since my freshman year, I have participated in many different activities that Drew University has to
offer. I am currently House Assistant for La Casa Hispanica (the Latino Student Theme House).
I am an active member of ARIEL (Latino Student Organization), KUUMBA (African - American
Student Organization), the Honduras Project (students go to Honduras for two weeks and work
with orphanages), and ResLife (the organization that oversees residential life on campus). I have
participated in the Drew International Seminars Program and studied in Iceland for three weeks.
I have participated in the Drew On-Campus Programs and studied on Wall Street for two days
each week throughout the semester. To further my education, I am applying to Drew University
Semester Abroad Program in which students travel either internationally or domestically and
study various subjects for a full semester. The programs for which I am applying to are the
London Semester, the Washington, D.C. Semester, and the Semester on the New Europe/Brussels.

Aside from these programs, there are many opportunities to work on campus as a work study
student. As a work study student, you have the opportunity to work on campus in various
locations such as the gym, library, EOS Office, and the University Center. You also have the
opportunity to work as a research assistant with a professor in your field of interest. If you
choose not to work on campus, there is a baby-sitting hotline which parents around Madison
and neighboring towns' leave messages for students to apply. These baby-sitting jobs pay
good money and many parents are flexible when it comes to the student's schedule.

Since my freshman year, I have been privileged in receiving the best the directors and staff of
the EOS Program have to offer. I have taken advantage of the counseling services, the career
counseling services, and the tutoring services the EOS Program extends. Aside from these
benefits, there is an EOS Honor Society, an EOS Student Council, a Drew University EOS
student representative that participates in meetings delegating important issues and concerns
that affect the statewide EOS program, and many opportunities to participate in statewide EOS
programs in various locations. I have also taken advantage to the services provided by individual
staff members. Taking time out of their busy schedule, they attend our programs if we are involved
in clubs, they are always willing to listen to us, help us, guide us, and most important, be our friend.
The EOS staff here at Drew University are wonderful, special people who will remain a part of my life
even after my career here ends at Drew.


Copyright © 1999 Drew University, Educational Opportunity Scholars Program