EDUCATIONAL OPPORTUNITY SCHOLARS
TEACHING AND TECHNOLOGY AT DREW
Drew students engage in learning that connects the traditional arts and sciences to the world of
work and to today's global society.

Drew teachers bring advanced technology and the most effective methods of experiential learning to
the classroom. They have made teaching undergraduates their top priority. They serve as mentors in
and out of the classroom and provide personal attention to students in small classes.


Students work with Professor of Physics Bob Fenstermacher on Drew's 16 inch, research-grade
telescope to produce images on a computer for enhancement, analysis, and storage. The result
is an exciting learning experience that puts students in touch with a wider world.

Drew is the first liberal arts college to give a computer to each entering student as part of
tuition. Drew has remained a leader in using technology as a powerful tool across the
disciplines of the liberal arts. An innovative approach to teaching at Drew gives its
students a personal and powerful learning experience.
FIRST YEAR SEMINARS
These seminars are intensive small-group discussion courses which help Drew students learn
to think and write analytically. The professor leading the seminar also acts as each student's
faculty advisor.

ATTENTION FROM TEACHERS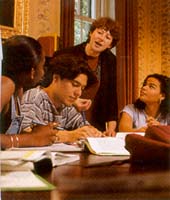 Attention from teachers extends well beyond the classroom. Faculty members hold regular office
hours, are easily accessible by phone, voice mail, and e-mail, and regularly attend campus events.
HANDS ON LEARNING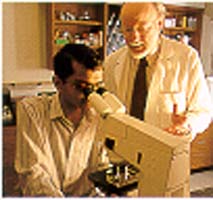 Hands on learning intensifies the academic experience for students. One example: Drew science
students conduct research alongside some of the world's most accomplished scientists. Through
the Charles A. Dana Research Institute for Scientists Emeriti (RISE), renowned scientists, newly
retired from industry, direct undergraduate research.
LOCATION @ DREW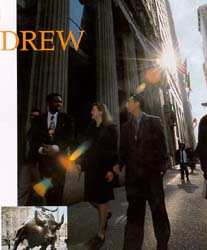 New York City, an hour by bus or train from Drew's safe college campus, is a major gateway to
the wider world. Drew's location near the New York metropolitan area gives students easy
access to one of the largest centers of business, the arts, and entertainment.
Each of Drew's academic programs takes advantage of this proximity to corporate, media, and
cultural centers. Four of Drew's off-campus study programs--on theatre, Wall Street, the United
Nations, and contemporary art--are centered in Manhattan.
Wall Street is bullish on Drew. The Wall Street Semester, Drew's newest off-campus program,
focuses on the daily operations of New York's financial district as well as its impact on the
global economy.


Career-related internships round out the experiential learning process for most Drew students.
In Morris County, the headquarters and research centers of some of the world's leading
multinational corporations offer students chances for career exploration. In New York City
and around the world internships draw Drew students in every conceivable field, including
marine mammalogy.


Go to top page
Shortcut to Home

Copyright © 1999 Drew University, Educational Opportunity Scholars Program