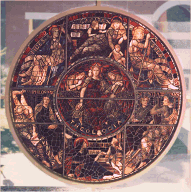 Drew University Library

Research Guide:
English 4: Writing in the Discipline
Spring 2007

General guides to research:
Consult these for recommendations for the basic tools in an area.
Reference
016.8209
H289l


Harner, James L. Literary research guide: An annotated listing of reference sources in English literary studies . NY: MLA of America , 1989, 1993, 1998, 2002.


Reference
016.8209
B797r
1998

Bracken, James K. Reference works in British and American literature . Englewood , CO: Libraries Unlimited, 1998.
Encyclopedias, dictionaries and reference sources:
General sources:
Reference
803
C964d
1998


A dictionary of literary terms and literary theory, 1998.

Reference
801.3
J65j
Johns Hopkins guide to literary theory & criticism, 2005.
Reference
801.95014
H399g
A glossary of contemporary literary theory, 2000.
The terms this book clarifies are often ones you didn't even know you needed clarificationon. It provides the tools a starting scholar needs to use academic language wisely.
Reference
820.3
O982o
Oxford companion to English literature, 2000.
Reference
423
O98o

The Oxford English dictionary. 1989.
http://dictionary.oed.com/
Research Resources
Literature resource center
Reference
820.90003
R286r
Reader's guide to literature in English, 1996.
xreferplus
Reference
810.3
O98o

Oxford encyclopedia of American literature, 2004.

Reference
820.9
B862b

British writers . Edited under the auspices of the British Council. NY: Scribner, 1979-
This series is all-purpose, with biographical information, critical content and a chronological timeline that includes cultural and political context. For the major authors in the canon, this is a great place to start.
Focused sources:
Reference
809
C761c


Contemporary literary criticism, 1973+
Covers authors who were alive after 1999.

Reference
809.04
T971t

Twentieth-century literary criticism, 1978+.
Covers authors who died between 1900-1999.
Reference
803
E562e

Encyclopedia of world literature in the 20th century , 1999.

Reference
823.910903 O98o

The Oxford companion to twentieth-century literature in English, 1996
Reference
016.82
C877o

Oxford chronology of English literature, 2002.
Reference
821
Y41Z P261c
A concordance to the poems of W.B. Yeats, 1963.
Social Context:
Reference
973.03
D554d

Dictionary of American history, 2003.
Reference
941.08103
E56e
Reader's guide to British history, 2003.
Reference
941.5003
E562e
Encyclopedia of Irish history and culture, 2004.
Reference
902.02
G888t2
Timetables of history, 1991.

Reference
902.02
M525c
Chronology of world history, 1999.
Bibliographies and indexes:
To find magazine or journal articles, you should use an index, which may or may not include the actual articles. On the Research Resources page of the Library's web site, under Online Resources, you'll find descriptions of specific indexes, arranged by topic.
Bibliographies:
Bibliographies are in two general call numbers. For bibliographies of a single person, go to 012, within which books arranged alphabetically by their subject's last name. For bibliographies of a topic, go to 016, and then add the general Dewey number. For instance, the general number for English literature is 820, so bibliographies on English literature would be under 016.82 - and browse from there!
Reference
016.8209 R432r 1
Research guide to biography and criticism, 1985.

Reference
016.82309
P174e
English novel explication/Supplements, 1973-2002.
Reference
012
Y41 J63w
W.B. Yeats: A classified bibliography of criticism, 1990.
Ongoing bibliographies and indexes:
Reference
820.9
E58e

Year's work in English studies (YWES) . London : Blackwell, 1920-
Gives a description and review on writing done during the specific year. It is organized by time period and gives the most recent research on the literature within specific eras, such as the Victorian or modern.

Reference
810.9
A512a
American literary scholarship, 1963-
An annotated listing of reference sources in English literary studies. It's a pocket guide to sources by topic. This guide is a great starting point to find sources for your particular topic.
Research Resources
MLA (Modern language association) international bibliography . MLA, 1963 –
Research Resources
Research Resources
WorldCat.
Research Resources
Women's Studies International
For indexes that do not include the full-text of the article, you need to check TWO places:
A guide to the process of determining if we own a specific magazine or journal is available under Research Help/Subject Guides on the Research Resources page.
Questions?
If you have questions, call the Reference Counter at x3588. We're available 9-5, Monday-Friday and 6-10, Sunday-Thursday. Or email me at jcaldwel@drew.edu!
Jody L. Caldwell/3/24/07
www.users.drew.edu/jcaldwel/Eng4-06
Link from http://www.depts.drew.edu/lib/courses/index.html on Research Resources