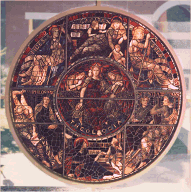 Drew University Library

Research Guide:
WMST 112: Contemporary Feminist Theory and Methodology
Fall 2006

Encyclopedias, dictionaries and reference sources:
Use these for background information and to identify recommended or key sources.
General sources:
Reference
305.4203
E56e


Encyclopedia of feminist theories, 2000.
Looks at a variety of both theories and subjects that are theorized. Useful bibliographies.

Reference
305.4203
R869r


The Routledge critical dictionary of feminism and postfeminism, 2000.
Uses broad essays to survey theory, and then provides brief entries on prominent people and concepts

Reference
305.403
W872w
Women's studies encyclopedia, 1999.

Reference
305.4203
B688h

Historical dictionary of feminism, 2004.


Reference
305.4201
H925d
Dictionary of feminist theory, 1995.
Although a slightly older source, this work by Maggie Humm has clear and usable definitions.
Reference
305.4203
W872w
The women's movement today: an encyclopedia of third-wave feminism, 2006.
Significantly less theory-oriented than the sources above, this nonetheless has some useful overviews.
Research Resources
xreferPlus
A collection of general reference works, which can provide brief definitions.
Focused sources:
Reference
801.95082
E56e
Encyclopedia of feminist literary theory, 1997.
Reference
809.89287
W623e
Encyclopedia of feminist literature, 2004.
Reference
108.203
G226h
Historical dictionary of feminist philosophy, 2006.
Reference
305.4203
W872w
The women's movement today: an encyclopedia of third-wave feminism, 2006.
Bibliographies and indexes:
To find magazine or journal articles, you should use an index, which may or may not include the actual articles. On the Research Resources page of the Library's web site, under the heading Resources by Subject , you'll find descriptions of specific indexes, arranged by topic.
Bibliographies:
Bibliographies that are not ongoing generally try to be selective, culling prominent or seminal works, which can help you winnow out more minor sources.
Reference
016.3054
S859w

Women's studies: a recommended bibliography, 2004.
Tries to identify the core works.
Reference
016.30542
F329f
Feminist writers, 1996.
Bibliographies for the major writers.
Reference
016.30542
N832fem
Feminism worldwide: a bibliography, 1996.
Ongoing bibliographies and indexes:
These bibliographies are more likely to try to be exhaustive and inclusive, not missing relevant items. You will need to check not only the indexes specific to Women's Studies, but also the bibliographies of relevant academic disciplines as well. If you're not certain what other databases to check, consult the Core section of the subject pages found on Research Resources.
Research
Resources

Women's studies international, 1972 - present.
The most inclusive in the field. Only one person can use at a time - please remember to log off! There is a user guide available.

Research
Resources

GenderWatch
Provides full text for ephemeral material on gender - it is no substitute for Women's studies international, and will not identify scholarly sources.

Reference
801.95
Y392y
The year's work in critical and cultural theory
Annual bibliographic essays on feminisms, with about a two-year lag. Very selective.
Research
Resources

Historical abstracts, 1450-
America: history and life
Historical Abstracts includes articles on non-North American history after 1450. America: History and Life indexes material on US and Canadian history.


Research Resources
MLA International bibliography
The core index in literary and film criticism.
Use the "Search for article" button to see if electronic full text is available. If it isn't, click on "Search the catalog by journal title" under "Additional options" to check for Drew's paper and microform holdings.
A guide to the process of determining if we own a specific magazine or journal is available under Database Guides on the Research Help page.
Locating books:
Drew Catalog (catalog.drew.edu)
Unless you're looking for information on a person, always start with "Keyword" search. Look at the complete record of relevant books, and check the specific subject headings to identify the terms. If you're looking for an essay that you think has been published in a book, use "Keyword" to search the "notes" field.
Research
Resources
WorldCat.
The combined catalog of 20,000 libraries. If we don't hold the book you want, request it through ILL using the link in the complete record.
Amazon
Yes, Amazon. Although WorldCat is much better at identifying relevant title, Amazon has the useful feature of "Search inside the book" for those titles whose publishers have agreed to it.
Public Websites:
There are some fantastic resources on the web, but there are also a lot of academically sloppy pages. For authoritative sources, check the recommendations on the Library's Women's Studies page, or at Drew's Women's Studies Resources on the Worldwide Web.
Questions?
If you have general questions, call the Reference Counter at x3588. We're available 9-5, Monday-Friday and 6-10, Sunday-Thursday. If you'dlike more specialized or extended assistance, you can set up an appointment with me at 973-408-3481 or jcaldwel@drew.edu.
Jody L. Caldwell 9/21/06
www.users.drew.edu/jcaldwel/Wmst112-F06
Link from http://www.depts.drew.edu/lib/courses/index.html on Research Resources