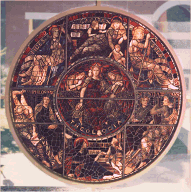 Research Guide:
FYS: Amélie Goes to Hollywood
Spring 2006
Sources for Background Information:
Encyclopedia of European cinema, 1995.
Reference 791.43094 E56e
Good background articles on French cinema, directors and earlier films.
Dictionnaire du jeune cinema francais, 1998.
Reference 791.430233 D554d
Helpful background on prominent directors, in fairly accessible French. Not all the class's directors show up in here, but quite a few do.
Critical Dictionary of Film and Television Theory, 2001
Reference 791.4301 C934c
Definitions of technical terms.
Internet Movie Database (IMDb)
http://us.imdb.com/
This substantial site includes not only plot summaries, user reviews and director/actor/writer indexes, but also links to some fairly reputable external review sources, such as the LA Times and the Chicago Sun-Times. It's not all that scholarly, but the IMDB is still a very useful site for finding out about a film.
Movie Review Query Engine
Provides text of large numbers of often quite reputable reviews in both web and print sources.
The Greenwood Encyclopedia of Women's Issues Worldwide, 2003
Reference 305.403 G816ge
Information on the conditions and social expectations of women within specific countries.
Countries and their Cultures, 2001.
Reference 306.03 C855c
Good for contextualizing social problems within nations.
Sources for Articles and Reviews:
As well as consulting the IMDb (above) and Movie Review Query Engine, which will retrieve reviews, consult the resources below, available from the drop-down menu for Online Reference Sources and Journal Articles on the Library's Research Resources page. You may need to use multiple terms to locate material:
Academic Search Premier
This broad general index locates articles in approximately three thousand journals, and provides full text for about half of them.
ProQuest Direct
Another general index, similar to Academic Search Premiere. Use "Advanced Search," which is - paradoxically - easier than "Basic. " (Actully, this is frequently the case!)
Lexis/Nexis Academic
Go to "News," then select "Arts and Sports" and "Book, Movie, Music and Play Reviews," and set the time period for the appropriate length (the default is the previous six months). You will get reviews, not broader analysis.
International Index to the Performing Arts
Indexes 200+ academic and trade journals in theatre, dance, music and film, about half full-text. Check the Drew Catalog to find out if we own the journals cited.
MLA International Bibliography
The most scholarly of databases listed here, this indexes academic writing on film and film theory.
Finding Information on the Public Web:
Google: Advanced Search.
http://www.google.com/advanced_search
Use Google when you're looking for information on a specific film or person. Enter the title of the film, the director, and any addition aspects you're looking for -- social, political, etc.
Vivisimo.com
This returns sites sorted into categories, which may be helpful. (For a visual sorting of search results, check out Kartoo.com)
BUBL-Link: Film Studies
This British directory to public web resources in the humanities provides links to recommended sites in film and film theory, picking up some excellent review sources not accessible through the IMDb.
For additional information on recommended search engines and directories, check Guide to Locating Public Internet Sources.
Questions? Call the Reference Desk at x3588, or drop us an email at reference@drew.edu, and we'll get back to you.