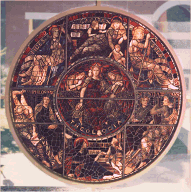 Drew University Library
Research Guide: Fairy Tales and Literature
Fall 2006

Locating Background Information on Fairy Tales and Authors:
Folklore, Myth and Legend
A public website that pulls together links to sources of stories and legends
Sur la Lune Fairy Tale Pages
Another public site, collecting a wide variety of pages on specific classic fairy tales.
Grimm Brothers
Focusing on German tales, compiled by D.L. Ashliman. Public website.
Reference
398.2
O98o
The Oxford companion to fairy tales, 2000.
Literature Resource Center provides biographical and critical essays on major authors. Find it on the English subject page off Research Resources.
Using Indexes:
To find critical commentary on specific fairy tales, or on the treatment of the tale within a movie, consult periodical indexes, which can be broad, indexing major journals in a broad range of topics, or quite narrow in focus, indexing specific topics in greater depth. These databases are found on Research Resources:
Academic Search Premiere: A broad general database that includes magazines as well as academic and trade journals. A good starting point.
ProQuest Direct: Another broad database, also indexing magazines and newspapers along with academic sources
MLA Bibliography: The most exhaustive of databases in literary and film criticism, indexing academic material in books as well as journals.
If full text is not available in a database, click on the "Search for Article" button to see if the article is in any other database. If it isn't, click on "Search the catalog by journal title" under "Additional options" to see if Drew owns the journal in paper or microform. If we don't own it, and if you've made an early start, you can request the article through Inter-Library Loan.
To find articles from footnotes or bibliographies:
Finding books:
Check the Drew Library Catalog to find books on fairy tales in general and on specific stories. Use "Keyword" when you're starting your search, and only switch to "Browse" if you're looking for a specific book identified in another source, or if you know the exact subject heading used in the catalog.

Locating Images:
Major illustrators are sometimes included in the Bridgeman Art Library, which you can find under "Art image collections" in Grove Art Online. This resource is both on the Art subject page, and in the "Resources by Name" list.
Another way to locate illustrations is through Google Images, but remember that you're only searching captions or text behind an image when you do that. You should also search the name of your tale and the term "illustrations" in general search engines - this will often help you identify who the major illustrators are.