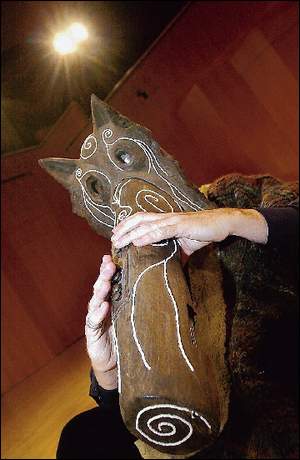 Norman Lowrey is a mask maker/composer and former Chair of the Music Department at Drew University , Madison , NJ . He holds a Ph.D. in composition from the Eastman School of Music.
His earlier compositions for orchestra, several in the rental library of Carl Fischer, Inc., have been performed throughout the U.S. and heard in radio broadcasts in Canada and Europe . These works include a setting of Dylan Thomas' "AChild's Christmas in Wales " for narrator and Orchestra, and "Breaking Open," a setting of poetry by Murial Rukeyser for Women's Chorus and Orchestra.
He is the originator of Singing Masks. The masks, both ceramic and carved wood, incorporate flutes, reeds, ratchets and other sounding devices. Each mask has a unique voice. They have been exhibited in East Coast museums and galleries, including the New Jersey State Museum .
His primary creative work over the last decade stems from a project that he initiated in collaboration with the Delaware Riverkeeper (Cynthia Poten) called River Sounding: gatherings of people along the 350 mile length of the Delaware River to listen to the river in silence and create work in response to that listening.
He is a long-time student/colleague of composer Pauline Oliveros, is certified in her Deep Listening practice and is on the Board of Directors of the Deep Listening Institute.
Lowrey has presented Singing Mask ceremony/performances in such diverse locations as Plan B and Site Santa Fe in Santa Fe, New Mexico, Roulette and Lincoln Center in New York City, The Deep Listening Space in Kingston, New York, The New Jersey State Museum in Trenton, and at the site of pictograph caves outside Billings, Montana. Among his is most recent performance was "Into The Deep (Dreaming)" presented in the Concert Hall at Drew University with Pauline Oliveros and The Deep Listening Band and "In Whirled (Trance)Formations" presented with the Avatar Orchestra Metaverse online in Second Life.