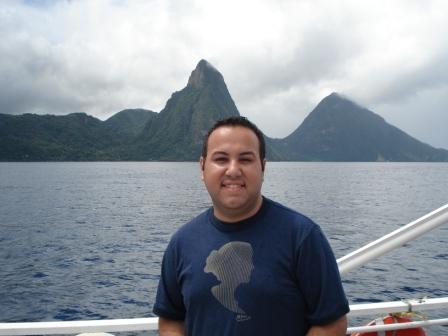 Raúl Rosales Herrera
Assistant Professor of Spanish

Drew University
36 Madison Avenue
Brothers College 205-B
Madison, NJ 07940
973-408-3751
rrosales@drew.edu
---
Raúl Rosales Herrera is Assistant Professor of Spanish at Drew University, where he has been teaching since 2004 and where he also completed his undergraduate studies summa cum laude in 1999. Born in New York City to Cuban parents and raised in New Jersey, he earned his M.A., M.Phil, and Ph.D (2007) in Spanish from Columbia University.
Raúl's areas of research include autobiographical and life-writing, autobiographical theory and modalities within fictional discourses, Cuban and Cuban-American literature and culture, and 19th and 20th century cultural movements and production in Spain, Latin America and the U.S. His scholarly work has appeared in journals like Tinta and Hispania, as well as in the anthology Language and Identity in Chicano/Latino Discourse (LIMCOM, 2006). Other articles are forthcoming in the journals Caribe and Encuentro de la Cultura Cubana. He has also contributed entries to The Encyclopedia of World Literature in Spanish, forthcoming by Greenwood Press. Raúl's completed book manuscript, Narrating Selves: Autobiographical Perspectives in Cuban Diaspora Writing, is currently under contract consideration. His current research project examines the culture of melodrama across genres in the Spanish-speaking world, and the intersection of melodramatic representation and national discourses.
A National Endowment for the Humanities Fellowship recipient, Raúl is a peer reviewer for several scholarly journals and has chaired various panels and presented numerous papers at various national and international conferences. He serves as Area Chair of The Popular Culture Association / American Culture Association National Conference for the subject area: "Latin Americans & Latinos: Identity Issues and Cultural Stereotypes" and is also the translator of Epic, Empire, and Community in the Atlantic World (Bucknell University Press, 2008).
Raúl teaches language courses, as well as advanced literature and cultural studies courses in Spanish and English. He is the co-chair of Drew's Foreign Language Council, an active member of the Student Life Advisory Board, and the faculty advisor to Ariel, the university's Latino student organization. Raúl has led student groups abroad and has co-led a Drew International Seminar to Buenos Aires, Argentina. In 2010 he will serve as Program Director of Drew's International Summer Program, "Language and Culture in Barcelona." Raúl is also the Founding Director of Language in Motion @ Drew University, a cultural outreach program in New Jersey public high schools. In 2009 Raúl received Drew University's Student Activities Faculty Recognition Award.