WindWord Animal Communications
---
Anyone who has ever loved an animal has probably wished at one time or another that they knew what the animal was thinking, or what was wrong, or what the animal needed to feel happier or more comfortable. If you have ever looked into the eyes of an animal companion and wished for greater clarity and understanding in your relationship, a telepathic animal communicator can help you.
Through the use of telepathy, animal communicators make a connection, heart to heart, and mind to mind, with animals. Whether the purpose is to heal some emotional wound, or to solve some minor behavioral problem, communicating with animals serves to deepen our relationships with them, and to enrich our understanding of them as sentient beings and fellow spirits on the journey through life.
I believe that everyone has telepathic abilities, but that most of us learn to shut down these avenues of communication, not only with the animals, but with each other, at a very young age. Through training and practice, the doors which have been closed may be opened again.
Many find that their own telepathic and empathic abilities are reawakened after they have heard the voices of the animals affirm the truth they have always felt in their hearts. As with all communication, when pathways are open, intentions good, and hearts honest, animal communication often serves to resolve conflicts, deepen relationships, and increase mutual respect.
Allowing ourselves to feel joined, mind to mind and heart to heart, with the animals reminds us of our essential connection, one to the other, and all to the earth.
---
Appointments
Appointments are available on Monday, and Tuesday evenings, 7:00-8:00 p.m. Eastern Time. Appointments are scheduled for 30 minutes or 1 hour. Minimum billing period is 30 minutes. It is the client's responsibility to convert any time zone differences, and to call at the scheduled time. Calls received more than ten minutes later than the scheduled time are considered cancelled and will not be answered. The phone number to call to keep your appointment is (908)689-2455.

I am often booked weeks in advance. Constraints upon my time rarely allow me to take cases of an urgent nature. I no longer work with missing animal cases. Please do not request an exception for either an urgent case or a missing animal case. I will be happy to refer you to someone who works with missing animals or to someone who can accomodate urgent cases and fit you in much sooner than I can.
Sessions are conducted by phone. To schedule an appointment, please e-mail my assistant, Debra, at ginnyscommunication@gmail.com. Please allow 3-5 days for a response. One of us will get back to you as soon as possible.
---
Cancellations
Please be courteous about my schedule. If you need to cancel, 24 hours notice would be appreciated. I do not charge for cancelled appointments, but deeply appreciate as much advance notice as possible.
---
Payment
Payment is for my time. I do not require payment in advance, but prompt payment is appreciated.
$45.00/30 minute session
$85.00/hour session
Payment from international clients must be in US currency. Please add $2.00 US to cover bank conversion fees.
Personal checks or money orders may be made payable to Virginia R. Palmieri. I will supply you with my mailing address at the conclusion of your session. Terms of payment must be established at the time the appointment is made.
---
Your Consultation
You don't need to do anything to prepare for your session with me, other than to have an idea of what questions you wish to ask and what issues you feel you want to talk about with your animal. Since the connection that will be made is telepathic, the animal need not be in the room with you, or even nearby. All that is necessary for your session is that you have an emotional bond with the animals with whom we'll be working. I will ask you for your name, address, and phone number when we begin our session. Then I'll ask you some questions about each animal we'll be working with, including their names, their species, gender, age, and some general physical characteristics.
I receive answers from the animals in many ways. The combination of words, feelings, abstract images, and pictures comes to me very quickly, and I have to translate it all into a meaningful response that I can convey to you. Sometimes, the animals bring up issues that you may not be expecting, or will have things they need to share which might be difficult for you to hear. I will do my best to act as a conduit between you and your animal, and to remain non-judgmental and impartial in my role. I will always be honest, and consider it my responsibility to serve as the animal's voice. If there is anything that either you or your animal are unwilling to address, I will gently prompt the other party to move on to another topic. My hope in doing this work is to assist in a healing and growing process, to strive for a deeper mutual understanding between you and your animal, and to never do any harm. Consultations are private and confidential. Your privacy will always be respected.
---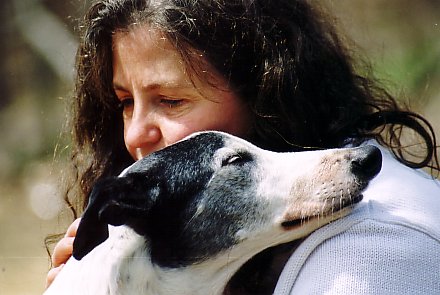 About Ginny
Ginny graduated from Drew University in 1974, with a Bachelor's Degree in Anthropology. She has been working with animals her entire life. Since 1977 she has been training dogs, and breeding and exhibiting German Shepherd Dogs. In 1990, after her first consultation with an animal communicator, she began exploring her own abilities in this field. In the course of doing so, she has taken classes in animal communication and related fields with Dawn Hayman, Marlene Sandler, Catherine Nelson, Joanna Seere, and Linda Schiller-Hanna. She began accepting clients in 1992, and has now worked with clients and their animals from all over the US, as well as in Asia, Europe, South Africa and Meso-America.
Currently, she shares her life and home with 2 German Shepherds, a retired racing Greyhound, a Shih Tzu rescued after its owner's death, a Yellow Nape Amazon Parrot, a Lilac Amazon Parrot and Grey Cockatiel
---