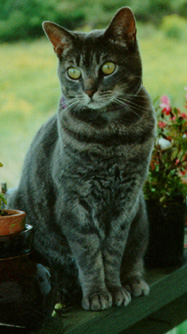 Tessa
Tessa, originally "the Contessa" (for good reason), was probably born in the summer of 1986. Descended from the infamous "Chivers," she is a ferocious hunter and heat-vent sitter. She can spot a lap at half a mile, and will be on it before you can blink. As the alpha cat of the household, she claims first taste of all food and the first greeting from all guests -- or she'll sulk.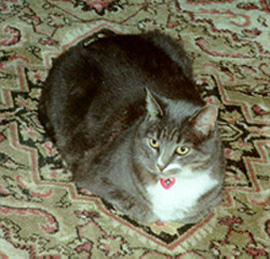 Kati
Named after her mother by the daughter of the person who gave her to me (Barb. Walling, secretary to the English Graduate program at SUNY Binghamton), Kati was born in June 1989. She comes from a long line of closely related kin, and is a rather grouchy, 15lb ball with a very small brain. She can be loving, and vastly entertaining. And she loves to take a bath (honestly).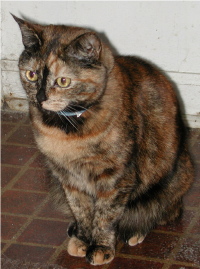 Frida
The baby of the household, Frida (after Frida Khalo's monkeys) is the daughter of Tamu, Tessa's sister, and was born in the summer of 1996. Frida may be a better hunter than Tessa (especially flies) and is never quite still. She would very much love to be the alpha cat when she grows up -- or now.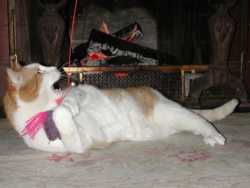 Grimsdyke
Grimsdyke (a.k.a. Grimmy) was born sometime around 1996 we think. We are fostering him until August when he will go to his new home. He is the most mellow cat, yet he seems to get what he wants without fighting with the other cats or even thereatening to do so. He likes to play and have his belly rubbed, and he's very talkative. He spends a lot of time sleeping and watching the birds through the window.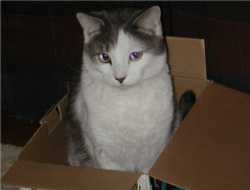 MoleTroll
MoleTroll (a.k.a. MT) is Grimsdyke's son and was born sometime in 1997 I think. We are fostering him as well, although he already seems quite at home! He is a little more timid than Grim, but he loves to play and talks in the squeakiest voice you've ever heard on a 17lb cat! Shake the tub of catnip and he moves faster than you've ever seen a cat move.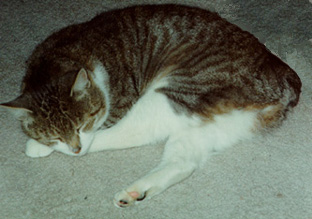 Henry (1988-2000)
Henry died of cancer, and eventually I'll take his picture down. A Manx cat, he was the sweetest, most nervous Tom cat you'll ever meet -- inside the house. He lived wild for at least three years in upstate New York and bore scars from fights with raccoons and skunks, but you'd never think it as you looked at him curled up like this next to Tessa in front of a fire, purring, or hiding from visitors or sudden loud noises under a chair. We think he was born in 1988 or '89, and he decided to move to New Jersey with us in 1993 (by curling up on "his" chair in the moving van and refusing to leave).