Once people learn that I'm from England, they always seem to want to know where I'm from, where I went to school, how I came to the U.S., where my family is, and so on. So, here it is folks. Details (some), pictures, and links for the truly dedicated! Enjoy. . . .
---
where I grew up
I was born in Shottermill (which is near Haslemere in Surrey, in the south of England), to Frank Jamieson and Daphne Jamieson, née Game (and, no, that isn't the name I give to credit card companies in case you wondered!). When I was four we moved to a council house (the English version of a housing project) at Hammer Hill in Lynchmere, West Sussex . My mother now lives in Haslemere, near to my brother, Ric, his wife, Jane, and their children, Thomas and Harriet. My sister, Nikki, lives on Guernsey, which is in the Channel Islands.
education history
I attended Camelsdale County Primary school, now called Camelsdale First School, (from age 4), then Easbourne Intermediate School -- a brand new open plan school where they tried educational experiments like letting girls take woodwork instead of home economics, and inviting everyone to spend all day in the library on Fridays if they felt like reading! After that came Midhurst Grammar School (which wasn't a Grammar School by then) where cool teachers included Dave Russell (Geography), Evelyn Abrams ("Miss Abe.") who taught me to love literature, and Mr. Austin (who assigned Eric Hobsbawm to his history class).

Next came the University of East Anglia (UEA) in Norwich, Norfolk, from 1978 to 1981 (they had 3 year BA's back then) in the School of English and American Studies (EAS) -- whose program looks very different now. For my B.A. (hons. in English and American Literature) I took papers in philosophy, American lit., English & American drama, English lit., and English & American poetry.

From 1984 to 1989 I attended the State University of New York at Binghamton (Ph.D. '91), where I had a teaching assistantship in the English Department. Along with being the secretary of the Foreign Student Association, sitting on the Graduate Senate and the Graduate Council, and being president of the Graduate Student Organization, I was also state-wide secretary for the S.U.N.Y. Graduate Student Employees Union (GSEU)-CWA 1180, and a local organizer (the GSEU didn't hold certification elections until 1992).
Selected employment history
Since I was 13 I've worked on farms, in every type of store, bar-tended, looked after too many kids, waitressed, worked in a plastics factory, secretaried, and done telephone sales. At 18, I left home and moved to Brighton (check out "postcards" if you follow this link!) to work at the University of Sussex as a library assistant. Finally I went to college, and after graduation I worked for Debenhams PLC as a department manager, completed management training and qualified as an Industrial Instructor. But I hated it, so I went back to school again, and I've never left!
Teaching
At Binghamton I was a writing tutor in the Campos-Robeson Tutorial Center (named after Pedro Albizu-Campos and Paul Robeson by the students who founded it), a TA for various courses, and advisor to newer teaching assistants. When I was a tutor, Rosie Rodriguez taught me how much I love teaching when she learned to use commas correctly and promptly burst into tears, and the rest is history.

From 1989-93 I had a non-tenure track position in the Dept. of Interdisciplinary Writing at Colgate, during the time when the Interdisciplinary Writing Program gained departmental status, but before it was systematically dismantled like so many stand-alone writing programs.

In 1993 I accepted the job as Director of Composition at Drew University, back in an English department again. I live in North Plainfield, NJ, with Walter Jacobsohn and my four cats. In spring 1998 I was tenured and promoted to Associate Professor at Drew (thanks to everyone who cheered me on and up during that process!!)




---
[return to my main page] [top of page]
---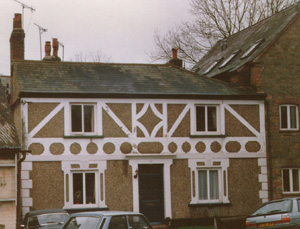 The mill house in Shottermill, where I spent my first four years (in the upstairs flat). The mill wheel used to be on the side of building to the right, under which the river still runs!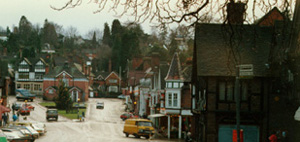 Haslemere, Surrey (that's the town hall stuck on the island in the middle of the street behind the Christmas tree).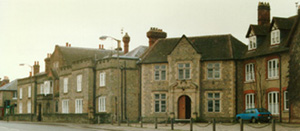 Midhurst Grammar School (MGS), in Midhurst, West Sussex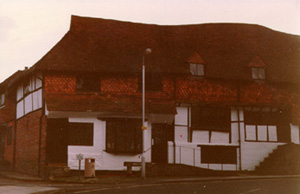 Midhurst public library. Midhurst is full of old buildings including Cowdray Castle--what's left of it--and Midhurst Grammar School.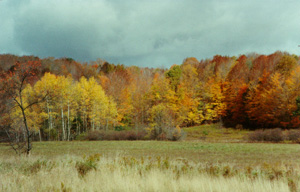 While teaching at Colgate, I lived in Norwich, NY. Here is the view I had from the back of the house I rented (the pond is to the right of this field, but the tree line ran along the whole horizon). It was a great place to write!
BTW: The Norwich in England is pronounced noridge (like porridge) while the Norwich in New York state is pronounced nor-witch. So now you know. Norwich, England is known as "a fine city," while Norwich, NY, is a very little town (and is named after Norwich Connecticut, anyway!)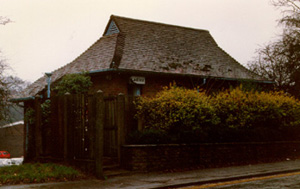 This is the public toilet at the top of Wey Hill, Haslemere (the sign says "Ladies" for all you Lacan fans). And the point of this picture is to boast that even our "public loos" are older than most buildings folks tell me are "old" in the US . . .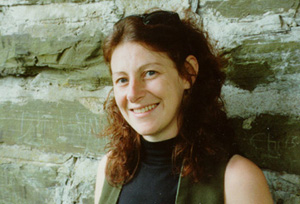 This is me ("wall" puns are intentional, of course).