Theatre Arts Faculty<![if !vml]>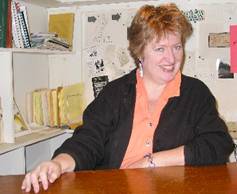 <![endif]>
Spring 2007
Office Hours
Tue/Thur 1:30 - 2:30

Courses taught regularly:
Intro to Playwriting
Advanced Playwriting
Women in Theatre
Show:Business
Theatre & the Visual Imagination

watch this space for news on
PATERSON FALLS,
a new play-in-progress commissioned by
Playwrights Theatre of New Jersey

Spring Play Festival
Mar. 2006
World premiere of
The Chair
Women's Studies Committee

Joint Affirmative Action Committee
Nominating Committee
Shakespeare Theatre of NJ,
Board of Trustees

Hallie Flanagan
was above all a patriot. Her dedication was to the people of this country, to improve the quality of their life, first by providing bread,
second by providing work and third by providing joy."
--Eric Bentley
New Jersey Governor's Award
2001 for Arts Education
*Distinguished Teaching Artist
2001 -- 2003"
NJ State Council on the Arts
Recent Publications:
From Paterson to P'town: How a Silk Strike in New Jersey
Inspired the Provincetown Players, Laconics, 2006
Scenes and Monologues for Young People, edited by Kent Brown,  scenes and monologues from Standing in the Shadows, Voices Carry, Motherless Child and Can-Can. Dramatic Publishing Co., 2005.
http://www.dramaticpublishing.com/product_info.php?products_id=1322